Honey Thyme shortbread
from a recipe in South Brunswick Magazine - summer of 2017
Ingredients:
2 cups all purpose Flour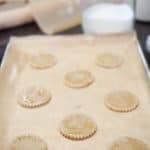 2/3 cup sugar
1 Tablespoon fresh Thyme, chopped
1 tsp salt
3/4 cup cold, unsalted butter (1 1/2 sticks) cut into cubes
3 Tablespoons honey
Method:
1. Preheat oven to 325 F degrees. In a large bowl, combine flour, sugar, thyme and salt. Use a pastry blender to cut in butter until mixture resembles coarse crumbs. Stir in honey. Gently knead in the bowl until dough holds together.
2. On lightly floured surface, roll dough to 1/4 inch thickness. Cut dough using cooke cutters. Place cookies 1 inch apart on ungreased cookie sheets. Reroll and cut scraps.
3. Bake 13 - 15 minutes or until edges are firm and tops are lightly browned. Transfer to a wire rack to cool.